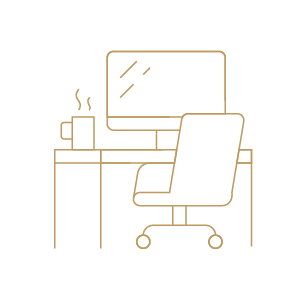 WLAN Inklusive
Intergrierte Küche
Begrenzte Anzahl an Cafekapseln inklusive
Check-in ab 07:30 Uhr
Officeday Rate €69,-
Anfragen unter:
welcome@blackhome.at
BENEFITS FOR ENTREPRENEURS
You book your personal B(l)ackhome online, pay in advance by bank transfer, online or at the check-in kiosk by credit card and receive your key-card directly. Whenever you wish to check in from 15:30, our security system is available for you 24 hours/day, 365 days a year. When checking out by 10:30 a.m., simply throw your key-card into the key-card return box – that's the freedom you deserve!
Companies and businesses receive attractive company prices and conditions and can thus offer their employees designer living space for both short-term and long-term stays. The longer you stay, the cheaper the price per night! Contact us today for your individual offer.
Your stay in Salzburg will last longer? You want to feel at home and a hotel room is not enough for you? Do you also value first-class facilities in the vibrant heart of the city? The B(l)ackhome Salzburg offers top modern, brand new apartments for trend-conscious and individual guests and temporary living "Wahlsalzburger".
In our B(l)ackhomes you can expect high-quality, functional furniture with style, which is uniformly equipped in all flats. Whenever you visit us, you can feel at home. You will find familiar furniture and a uniform, complete furnishing with all refinements in each of our flats – whether in Innsbruck, Salzburg, Graz or Vienna.
With your personal, fully equipped B(l)ackhome and our 24-hour check-in, all options are open to you. You are not bound to any breakfast or opening hours and can use your key-card 24 hours/day and 365 days a year for your flat and also for the washing machines. Enjoy the comfort of towel service, laundry change and much more despite your independence – you can't get more independent!
You will automatically receive our company invoice directly after your stay via e-mail and pay conveniently in advance by bank transfer or directly on site with a credit card at our check-in kiosk. If you have any questions, please contact us for all details. You can reach us at any time by e-mail or by telephone during our office hours. Contact us as a business customer also for your individual offer – both for short-term and long-term stays.